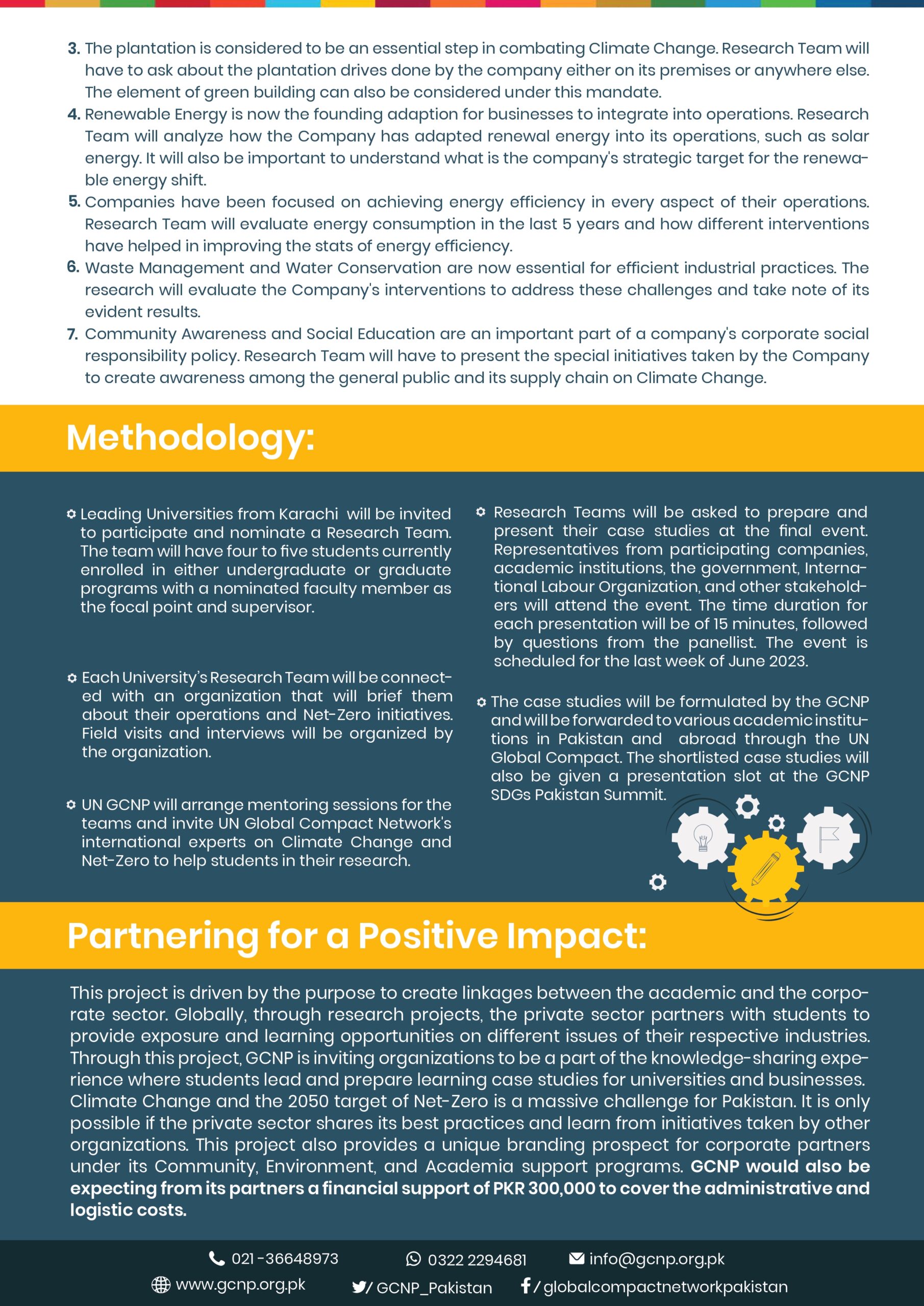 Net Zero Research Challenge
2023
Concluding Event
17th Aug 2023
Climate Change vulnerability affecting Pakistan: Younus Dagha
KARACHI: Younus Dagha, Chairman FPCCI Policy Advisory Board, has cautioned that Pakistan, despite being the fifth populous country, is highly vulnerable to climate change and is ranked 8th in the world. He added that although Pakistan has a large number of policies and even ratified global policies, the fact is that policies are not enforced or implemented. Hence the vulnerability factor is getting ominous for the country. He was speaking as Chief Guest at Global Compact Network Pakistan Net Zero Research Challenge 2023 in Karachi.
Younus Dagha further added that Pakistan is facing energy security, food security, and climate change mega issues. He advocated an Integrated Energy Plan and that a strategy must be put in action to drastically reduce dependence on fossil fuel.
Read More
Net Zero Research Challenge
2023
Introductory Session
9th June 2023
GCNP inaugurates Net-Zero Research Challenge 2023
"Experiential learning is an important tool under the Principles of Responsible Management Education (PRME) and this collaborative project between our corporate partners: PARCO, Artistic Milliners, AGI Denim, and Roshan Packages and academic partners: IBA, NED University and Iqra University will be an important step in strengthening the linkage between the academia and business organizations". This was stated by Mr. Majyd Aziz, President of UN Global Compact Network Pakistan, while addressing the stakeholders of the Net-Zero Research Challenge during the Introductory Session on 9 June 2023 in Karachi.
"In Pakistan, learning case studies in universities on sustainability and climate action are based on organizations from either Europe or the Asia Pacific. The Net Zero Research Challenge is a collaborative project in which four research teams from different universities will conduct research and prepare case studies on initiatives and policy reforms taken by four leading business organizations from Pakistan". Explained by Mr. Debaaj Abidi, Project Consultant, while briefing the audience about the project's background and objectives.
Dr. Bashir Ahmed, Dean of Suffa University, emphasized on starting similar collaborative initiatives to expand the learning exposure of students and faculty. "In many universities, when you ask students and faculty about Net-Zero Pakistan or sustainable business practices for Climate Action, you realize that knowledge is very limited. Similar projects must be undertaken so that the gap between what is being taught in universities and what is expected by recruiters is narrowed down", said Dr. Ahmed at the end of his session.
Read More