Consultative Meeting on Proposed Principles for Responsible Management Education (PRME)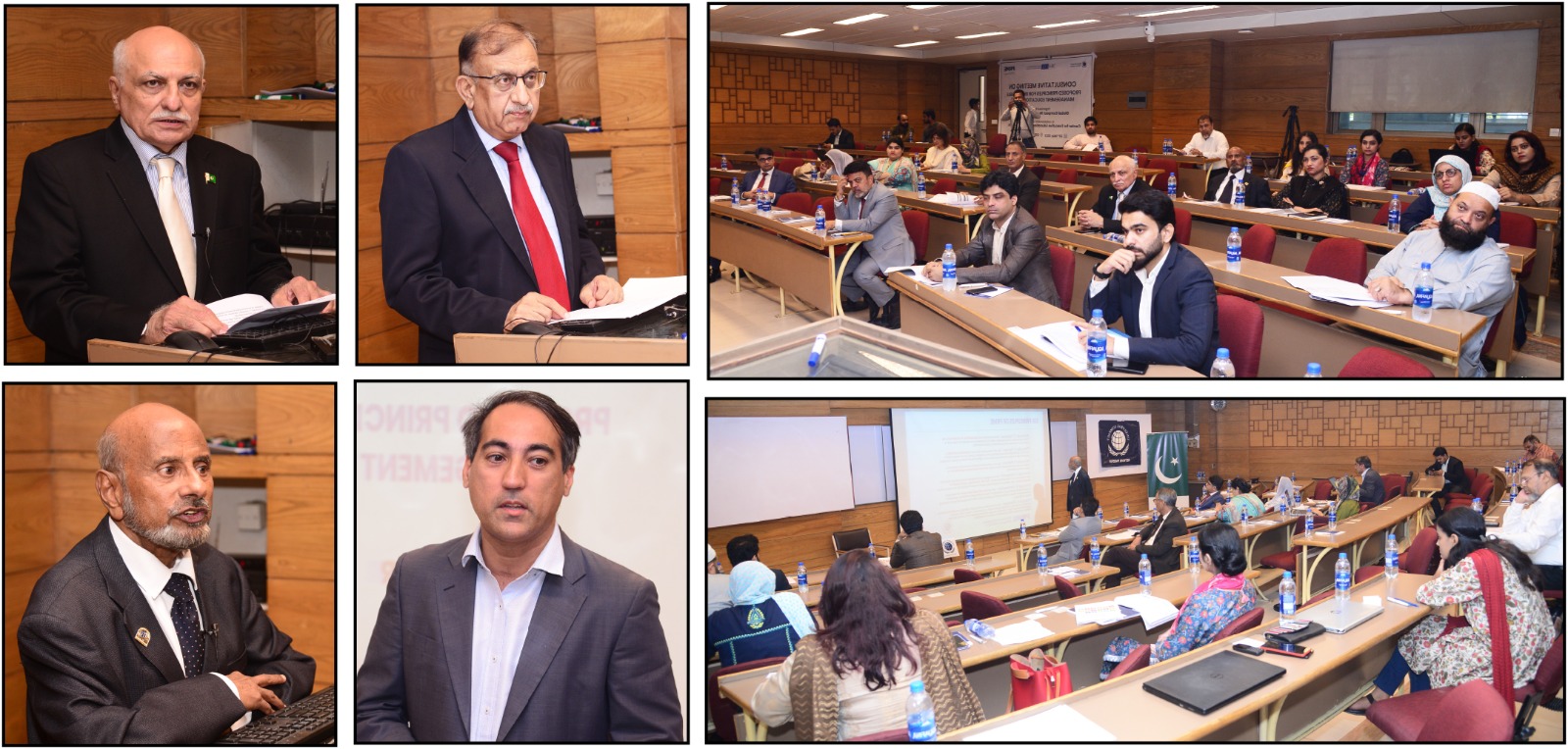 Chairman Sindh HEC emphasizes importance of UNGC PRNE
Karachi, May 23, 2023 – "Responsible management education is the compass guiding us towards a sustainable future, and together with GCNP, we will navigate this transformative journey, empowering future leaders to shape a better world."  this was stated by Chairman Sindh HEC Dr S. M. Tariq Rafi, who was speaking as the Chief Guest at the Consultative Meeting on Proposed Principles of Responsible Management Education (PRME) organized by Global Compact Network Pakistan and hosted by Center for Executive Education (CEE), Karachi. He further emphasized the need for Industry-Academia collaboration not only to promote PRME and Sustainable Development Goals, but also to improve the quality of education.
The event brought together esteemed leaders, experts, and stakeholders in the field of management education to discuss and provide insights on the revised principles of PRME.
The consultative meeting aimed to gather valuable feedback and perspectives on the revised principles of PRME, ensuring their alignment with the current needs and challenges of the business and academic communities. The event witnessed a diverse group of participants, including representatives from academia, business, government, and civil society, fostering a comprehensive and inclusive dialogue on responsible management education.
Earlier, Mr. Majyd Aziz, President GCNP, in his warm welcome address, highlighted the significance of responsible management education and its crucial role in fostering sustainable development. He also emphasised the need for experiential learning to better prepare the students for the job market
Mr. Fasihul Karim Siddiqi, the Executive Director of GCNP, delivered an insightful presentation on PRME, highlighting its current and revised principles, and emphasizing the crucial link between PRME and Sustainable Development Goals. His presentation provided valuable insights into the role of responsible management education in shaping future leaders and fostering sustainable practices in business and society.
The guest of honour, Kamran Bilgrami, Director of the Center for Executive Education at IBA Karachi, also took the opportunity to share his institute's commitment to social responsibility initiatives. In his address, Mr. Bilgrami highlighted the ongoing efforts being made within his institution to integrate social responsibility into its practices and curriculum. He emphasized the importance of equipping students with the necessary knowledge and skills to become responsible and accountable leaders who actively contribute to the betterment of society
The consultative meeting featured a session of Interventions and Feedback on the revised Principles for Responsible Management Education (PRME), where esteemed academics and experts actively participated and provided valuable insights. Dr. Junaid Rehman from MAJU, Dr. Ammad Ul Haque from SSEUT, Ms. Sana Tausaeef, Chairperson of the Department of Finance at IBA, Nyla Aleem, Chairperson of the Department of Management at IBA, Dr. Farayal Salman from the Millennium Institute of Technology and Entrepreneurship, Dr. Sarah Wali Qazi from SZABIST, Dr. Bashir from DHA Suffa University, Dr. Shabib ul Hassan, Vice Chancellor Hamdard University, and Dr. Shujat from IoBM contributed to the discussion, offering their expertise and providing valuable feedback that will play a pivotal role in refining the PRME principles and advancing responsible management education practices.